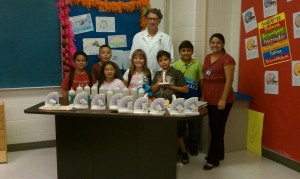 High Touch High Tech of San Antonio and Communities In Schools have been collaborating for five years with in-class programs, career days, mentoring, and summer school. HTHT has provided fun science enrichment classes that align the CIS mission of "empowering students to stay in school and achieve in life".  Afterschool programs were a new addition this year with 36 classes being held in Somerset ISD at Barrera, Somerset, and Savannah Heights with 3rd-6th grades. What a blast the students had launching their film canister pop rockets!
We first discussed Newton's third law of motion and how that applies to rockets, the chemical reaction, pressure, then safety, operational procedures, and then the fun began! Students worked in teams of two to fill, load, cap, and count off their pop launch. With unbridled enthusiasm, they retrieved their rocket, measured the launch distance, diligently marked the result on their chart, then did it again, and again, and again!
After cleaning up and returning to the classroom, students discussed their results, observations, variables, and conclusions. On that day, the typical launch was 8-14 meters! The CIS director, Ms. Richardson, is shown with several of her Somerset elementary students, and me, Mr. Sonic – Sizzlin' Scientist.
"Thank you for all the experiments you did with us. I liked the rockets the best, they were so cool! The power pill made the H2O explode! It was amazing" – Victoria 4th grade
"Thank you Mr. Sonic for all the things you have done for us. My favorite thing was the rocket because when we put the thing in and it went POP! – Elise 3rd grade