Happy National Chocolate Chip Cookie Day!
The chocolate chip cookie was invented by Ruth Graves Wakefield in the 1930s.
Legend has it that Wakefield was making chocolate cookies and ran out of regular baker's chocolate. So she substituted broken pieces of semi-sweet chocolate thinking that they would melt and mix into the batter. However, they did not (thankfully!) and the chocolate chip cookie was born!
It's debatable if we need a holiday to celebrate the treat that makes up a quarter of all cookies baked in America today, but we're happy to indulge nonetheless.
Celebrate today's holiday with some sweet science!  If you are wanting to experiment with chocolate chips that is a little less traditional than chocolate chip cookies, how about using them in the bath to wash away the dirt & grime from your day. Yep, that's right…you can use chocolate chips as a moisturizing soap! The Chocolate is full of oils that will moisturize your body and leave you smelling yummy too. 
---
LEARN HOW TO SWEETEN UP BATH TIME WITH THIS FUN AT-HOME EXPERIMENT!
Chocolate Chip Bath Cookies!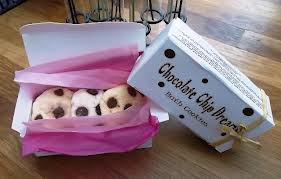 What You'll Need: 
1/2 cup Baking soda 2 cups of Sea salt or rock salt 

1/2 cup Cornstarch 

2 tbs of Almond oil 

1 tsp Vitamin E oil 

1-2 eggs 

6 drops of Vanilla essence
How To Do It:
Mix it all together and then cut out with cookie cutters or flatten balls to form a cookie shape. Add the chocolate sprinkles into the mix or simply sprinkle on top.
– Bake at 350′F (180′C) for 10-12 minutes. 
– Allow to cool. 
– Use 1-2 per bath.
Wrap these in airtight packaging or seal them in an airtight container as with time these cookies do go moldy. The picture above is of chocolate chip bath cookies.
What's your favorite kind of chocolate chip cookie? Leave a comment below & let us know!
---
Get even more FUN, hands-on science experiments on our website – www.ScienceMadeFun.net/experiments