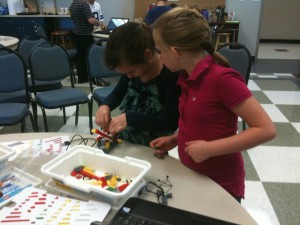 High Touch High Tech of greater Atlanta got students moving at their Saturday Science workshop! Kids traded in their bikes for beakers for the day as they  became real scientists and got hands-on with real science.  Students from Mr. Perry Cantrell & Ms. Beverly Grahams classes took part in the  "WE DO Lego Robotics" & "Dissection Connection" programs. Kids learned that science is fun as they got moving with robotics and opened up the world of biology with real frogs & earth worms! Check out the pictures below of  High Touch High Tech Atlanta's sensational Saturday Science event!
High Touch High Tech of Atlanta will be hosting more Saturday Science events this fall and in the spring of 2012. Find out when the next Saturday Science event will be by visiting their website:
High Touch High Tech of Greater Atlanta
Phone: 770.667.9443
Email: info@ScienceMadeFunATL.net
Not in the Atlanta Area? Find a High Touch High Tech near you by visiting our locations page!