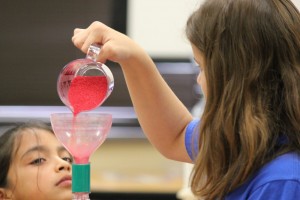 STEMsation 2011 is an annual event sponsored by the Region 20 Educational Service Center. On May 5th, 14 fifth grade classrooms out of 350 regional elementary schools were selected to participate in the event. HTHT conducted sessions for the fifth year. Students in our session utilized The Crusher to test and record the strength of paper columns. Scientists and engineers design many types of new products for use by consumers. To insure that their products are safe for use, they will test their designs in many different ways to evaluate the product performance and determine the limitations. Columns are a good example of structures that must be safe and reliable; tables and chairs, flag poles, human legs, building and bridge supports for example.
In San Antonio, the Tower of the Americas is a grand example of a column that was certainly designed and tested for safety in many ways prior to construction. With this introduction, students then took turns making and testing their columns. Columns were made by rolling a piece of paper around a mandrel and then taping.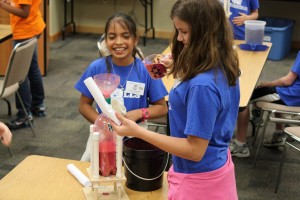 The mandrel is removed and the paper column is placed into The Crusher. The student then begins to add sand, then more sand, then more, then more, the anticipation is almost unbearable, until suddenly, the column is crushed! FUNTASTIC! The student measures the amount of sand using the scale on the bottle. Students get a real hands-on feel for measurement when they have to lift the bottle to empty the contents; they can really relate the weight with the number. Each result is added to the classroom chart and soon the distribution and need for conducting multiple tests becomes visually evident. Students received a HTHT pencil "column" for their participation.
Other presenters included Texas Agrilife Extension Services, Texas Wildlife Association, Cockrell School of Engineering University of Texas Austin, San Antonio Water System, Interactive Technology Experience Center UTSA, San Antonio Botanical Garden, Cibolo Nature Center, ESC-20 Living Science Center, ESC-20 Fun with Voki, ESC-20 Solving Engineering Problems, and Steve Wolf's Science in the Movies.
ESC-20 is one of twenty non-regulatory regional education service agencies within Texas which assist school districts in improving student performance and increasing the efficiency and effectiveness of school operations. ESC-20 provides administration, business support, certification, recruitment, curriculum, instruction and assessment, health and safety, professional development, specialized services and technology to 50 school districts in Bexar and 14 surrounding counties.