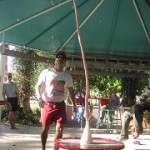 During a recent visit with our partners at Beaches Resorts by Sandals, located in Negril, Jamaica, we participated in the Volcanoes Program where a world record volcano eruption took place!
Check out that eruption!
This incredible eruption resulted in "oohs" and "aahs" and "wows" throughout the crowd of participants and onlookers.
To learn more about our partnership opportunities or how to make your own volcano eruption, visit http://www.sciencemadefun.net/