Written by: Science Made Fun! on October 18, 2012 @ 3:38 pm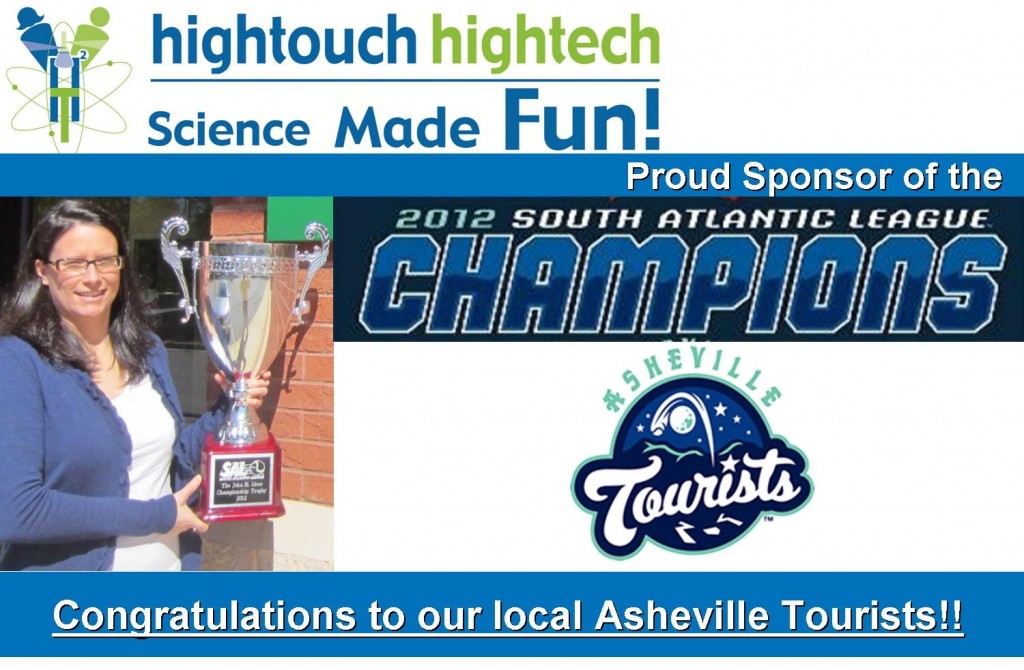 On September 14, 2012, the Asheville Tourists defeated the Greensboro Grasshoppers 10-4 to win the 2012 South Atlantic League Championship series three games to one. The SAL title is the first won by the Tourists since 1984. High Touch High Tech is a proud sponsor of the Asheville Tourists Education Day games each spring in which the stadium fills with students from across WNC. Our own Teri-dactyl Terri got the opportunity to pose with the Tourists' championship trophy yesterday outside of the HTHT headquarters.
Asheville dropped the first game of the series 6-3 but rallied to win Game Two by a final score of 10-3. In Game Three, the Tourists hit four Home Runs and defeated the Grasshoppers 9-0. The 2012 Asheville Tourists set the best regular season record in all of Minor League baseball!  The Tourists defeated the Rome Braves two games to one in the Southern Division Championship series before capping off a memorable and exciting season with the pinnacle of achievements; a South Atlantic League Championship. Way to go guys!
We can't wait to be a part of another exciting season with the Asheville Tourists in 2013! Learn more about the Asheville Tourists on their website 
Catogories:
Uncategorized