Written by: Science Made Fun! on September 20, 2012 @ 3:20 pm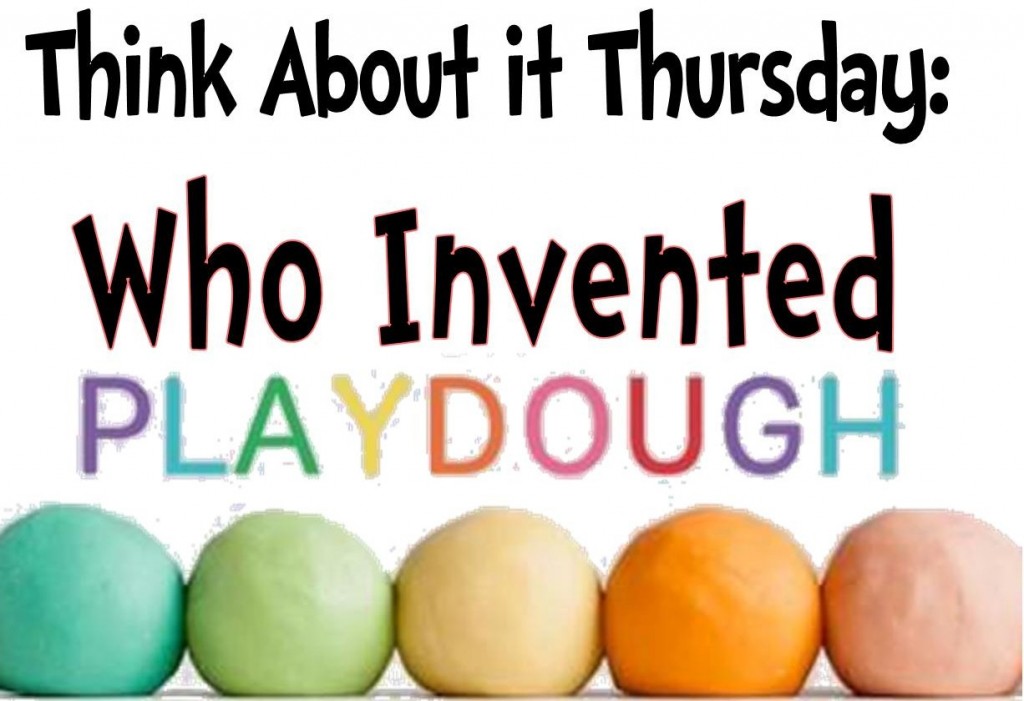 In honor of this week's National Play-Doh Day, we thought we'd get a little crafty for this week's Think About it Thursday! 
Have you ever thought about…
Who invented play dough?

What is play dough made of?

What was play dough originally used for?
Did you know?
Do you love play dough? Who doesn't, right? We can still remember the first thing we ever made with play dough. Can you guess what it was? If you guessed a snake, you're correct! 
The invention of play dough was actually a fortunate accident. Way back in the 1930s, Noah McVicker created a substance that looked like putty out of flour, water, salt, boric acid and mineral oil. His family's soap company — Kutol Products — in Cincinnati, Ohio, marketed his creation as wallpaper cleaner! McVicker's special putty-like substance was an excellent wallpaper cleaner, because it didn't contain any toxic chemicals, could be reused and would not stain the wallpaper. Eventually, teachers learned that the wallpaper cleaner could be used as a modeling compound to make art and craft projects at school.
It wasn't until after World War II that Noah McVicker's nephew, Joseph McVicker, joined the company and learned that their wallpaper cleaner was being used for arts and crafts in schools. Joseph thought it would be a good idea to give the product a new name — Play-Doh®— and market it to schools, teachers and department stores.
The new product was an immediate success. In 1956, the McVickers started the Rainbow Crafts Company to make and sell Play-Doh®. Macy's in New York and Marshall Field's in Chicago began selling the product. The new company also began to advertise the product on popular children's television shows, such as Captain Kangaroo. Within one year, its sales had already reached almost $3 million! Over time, the exact ingredients in Play-Doh® have changed. As technology has improved, so has Play-Doh®. Although the exact recipe is a secret, Play-Doh® remains a popular modeling compound for art and craft projects, because it is still nontoxic, easy to use and simple to clean up.
Today, Play-Doh® is owned by a company named Hasbro that continues to make and sell the product through its Playskool line. In 2003, the Toy Industry Association added Play-Doh® to its "Century of Toys List," which contains the 100 most memorable and creative toys of the last 100 years. Play-Doh® comes in a variety of bright and bold colors. There are also a series of related products and toys that make use of Play-Doh®. Since its "invention," over 700 million pounds of Play-Doh® have been sold around the world!
Try it out!
Did you know you can make your own play dough?  It's true! There are different recipes and lots of fun ways you can make a batch of play dough at home! Check out the play dough recipes below and pick one to try. If you don't have all the ingredients on hand, you may need to head to the store first. Have fun!
Think About it Some More!
Visit the National Science Teachers Association for a guide to playdough science experiments! 
---
High Touch High Tech is the leader in innovative hands-on science and nature experiences for children, serving over 4 million children annually with 27 franchise locations across the United States, Canada, Turkey, Singapore and South Korea.
To learn more about franchise opportunities with High Touch High Tech, visit us online at ScienceMadeFunFranchise.net.
Catogories:
Think About it Thursday
,
Uncategorized
3 Responses